Flummery v0.3.7.5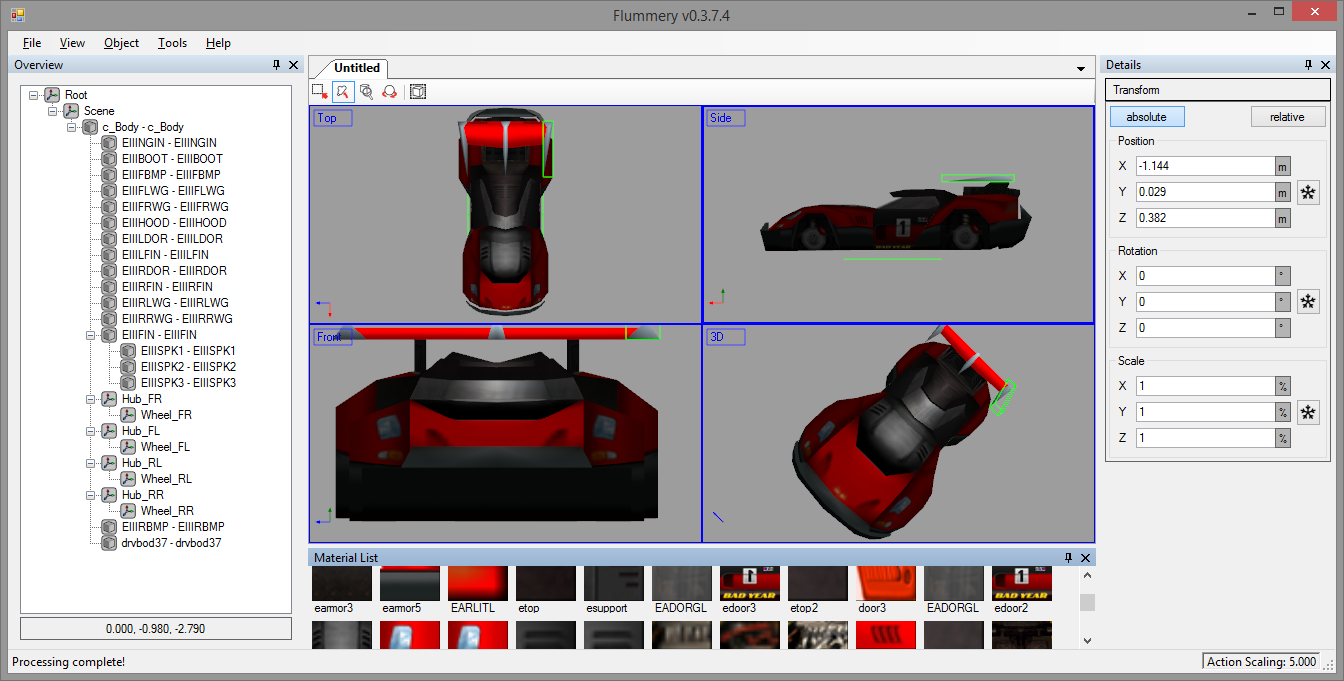 The spiritual successor to Plaything 2.
v0.3.7.5 released 2015-07-28
Download here (1.86MB)
Source here.
Notes:
Public beta release. Heavily work-in-progress. Bug reports, feature requests, etc to this thread or the issue tracker.
FBX support is improving and imports from Maya and Blender should function as intended. When exporting from Blender please ensure you use these export settings: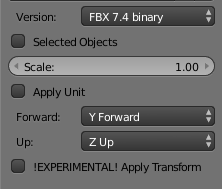 Check View > Preferences > Keys for keymappings.
Supports:
* Carmageddon Reincarnation
* Carmageddon
* Carmageddon 2
* Carmageddon Mobile (import only)
* Novadrome (import only)
* Carmageddon PSX (import only)
* TDR2000 (import only)
Changelog
v0.3.7.5
* CNT Export: Fixed a long-standing bug that has been malforming Z rotations
* Framing an object now correctly positions the camera
History:
[spoiler]
v0.3.7.4
* FBX Import: Final axis flip no longer corrupts rotations
* Overview: Added a little homage to Plaything 2
* Save as Level: Now generates a functional post_process settings file. Greatly improving the default sun.
* Save as Vehicle: Fixed numerous perfomance problems in the default setup.lol file
* When saving a CNT any referenced files (such as lights) will also be saved
* Tools > Carmageddon 2 > Process for Carmageddon Reincarnation: Split into Level and Car versions
v0.3.7.3
* FBX Import: Imports from Blender and Maya should now be as close to correct as possible
* Details > Transforms: Improved the rotation panel. It is now less likely to get all confused!
* Viewport: Added axis indicators
* Viewport: Fixed co-ordinates
* Save as Level: Materials containing ampersands are now handled correctly
* Save as Level: Now creates a better sun
* Fixed an issue when saving sun.cnt
* Various minor UI improvements
v0.3.7.2
* FBX Export: Vertex colours now exported
* FBX Export: Fixed duplicate node name collisions
* Save as > Vehicle: Completely overhauled. Now generates a minge file and a CarMODgeddon ready ZAD.
* Save as > Level: Completely overhauled. Now generates a minge file and a CarMODgeddon ready ZAD.
* View > Preferences: You can configure your Author name and website (used in minge files) on the Misc tab
* Tools > Carmageddon 2 > Process for Carmageddon Reincarnation: Applies all the necessary steps for converting an asset from C2 to C:R
v0.3.7.1
* FBX Import: Materials are no longer created multiple times
* FBX Export: Meshes following null nodes now export as expected
* FBX Export: Null nodes now export at all
* MDL Export: Meshes are split into MaterialGroups, optimised and tested for non-manifold properties automatically
* Object > Rename: No longer causes odd node names in the overview
* Object > Data > Add/Change Type: You can now change node types on the fly
* Save as > Vehicle: Improvements to the look and feel of this dialog
v0.3.7.0
FBX Import: Correctly imports UVs, handles FBX files from Visual Studio 2013
Tools > General > TDX Convertor: Various improvements
Improved handling of UV2 channel. Fixes issues with certain materials.
Save As... > Carmageddon Reincarnation > Vehicle: Dialog tidied up and fixed the generated vehicle_setup.cfg file
Added support for different node types. While this is mostly under-the-hood at the moment there is a fancy Light widget to fiddle with stock lights.
Vastly reduced memory consumption when loading levels.
Correctly generate tri-strips when saving MDL files
Overhauled the right-hand panel to use contextual widgets. These can be rolled-up by clicking the headers.
Far too many minor improvements to list
Repackaged the exe so you don't have to worry about all those weird dlls.
v0.3.6.9
Improved Remove LOD from Vehicle tool to Tools > TDR2000
Fixed minor material ID error in the DAT exporter
Fixed minor node duplication error in the HIE parser
v0.3.6.8
Added Remove LOD from Vehicle tool to Tools > TDR2000
Fixed TDX Convertor not opening
v0.3.6.7
Carmageddon 2 save support! Flummery can now save ACT, DAT and MAT files.
v0.3.6.6
Tools > General > TDX Convertor now imports TDX, PNG, BMP, TIF, JPG and TGA and can export as TDX, PNG, BMP, TIF and JPG
v0.3.6.5
Fixed the NullBall. Now shows green, wireframe and through other messages.
Can load C1 car.txt files through File > Open. Don't worry about unencrypting them first either!
Material Editor now supports BMP files.
The Transform panel is now super awesome. Freeze has been enabled too.
Added "invert texture 'v' coordinates" to the Object menu.
FBX import: Blender exported FBXs now import perfectly. Not sure about everything else though.
v0.3.6.4
Mouse Control! Thanks art0rz for getting this ball rolling.
Check for updates. Thanks again art0rz! (can be turned off in View > Preferences > Misc)
Fixed a fairly critical error in MDL export.
Fixed numerous issues in FBX import.
On "Save as Vehicle" Flummery will generate functional copies of setup.lol, structure.xml, systemsdamage.xml and vehicle_config.cfg if they don't already exist. These are to be used as a BASE for your own configuration. UI to configure these in Flummery will be coming in version 0.3.8.0+. These files are the bare minimum to get your car ingame.
v0.3.5.2
Fixed FBX export
v0.3.5.1
Version numbering changed!
Minimising Flummery no longer causes it to crash
Fixed errors occuring when using the Object menu
Improvements to the Transform UI. Purely aesthetic right now
v0.0.3.5
Importing multiple hierarchies and moving items between them should no longer mangle your scene
Fixed the "every other face" missing bug from triangulated blender meshes
FBX Nodes with a model but no geometry are now treated as nodes rather than models
Resetting the scene will also reset the drawn bounding boxes
Various issues with key-presses and focus have been fixed.
v0.0.3.4
FBX import should now be more robust and no longer mangle hierarchies.
Improved feedback on error. FBX import will warn you about untriangulated meshes for example.
Removed import OBJ from the menu (there was never any code behind it anyway).
Driver icon should display properly now
Dragging a node with child nodes will no longer crash Flummery!
Absolute mode in the transform widget will now correctly show negative rotations
New icons for the overview. Thanks FatCat!
Overview is now 98% less shit!
MDL now imports vertex colours and UV2s
Clicking a null node will draw a sphere at that location. Useful for positioning VFX points.
VFX icons now display properly.
Basic C1 asset importing. Remember to set your paths in the preferences menu.
Minor camera/control tweaks. Probably made things worse.
Added the About menu. Use the email link in there to send me bug reports/zipped FBX files if necessary.
Fixed the "hermit" issue. Stupid floating point numbers.
v0.0.3.2
FBX import now supports vertex colours
Bounding boxes now render in the correct location
Removed scale from the "Save as..." dialogs
Added Scale by Axis to the Modify Geometry dialog
FBX export should now correctly export null nodes (wheels and driver)
"Apply to hierarchy" in the Modify Geometry dialog now actually does something
Transform widget on the right now offers absolute and relative modes
FBX import supports long and float arrays (fixes Hermits issue)
Flummery no longer messes around with LHS and RHS co-ordinate systems, fixes a raft of export errors (thanks to FatCat for drawing my attention to them)
v0.0.3.1 - public beta
Massive improvements everywhere, especially the UI
MDL saving
FBX import (binary) and export
Too much to list really
v0.0.2.8
Added PNG and TGA texture support to Material Editor
Changed "." key to "w", dropped point mode and added textured wireframe
Fixed basic lighting
Added File > New. This'll reset the current scene.
Added context menu to viewport name panel. Right click will allow you to maximise/minimise the current viewport
v0.0.2.7
Initial release
[/spoiler]